Fortunately, the world of flavors is more colorful than just adding salt and sugar: if you're having trouble cooking without salt, here are some good tips for you.
Avoiding salt when cooking can be important for a variety of reasons: It also protects your heart if you eat less salt, and if the salty taste is reduced, you can improve the true taste of the food. Can know the way Fortunately, sprinkling less salt in the pan does not automatically result in tasteless cooking: that way you can eat it delicious, but not salty.
Herbs and other spices, especially green spices, can help you easily forget the dominance of salt: Mediterranean, Indian, and North African food recipes are a powerful way to prevent you from reaching the salt shaker automatically. There is a way. Try these delicious spices and ingredients yourself!
Garlic: If you halve the salt and double the garlic in the dishes served with the tomato sauce or dressing, the end result will still be a tasty but low-sodium dish.
FEEL FREE TO USE GARLIC AS A SEASONING FOR SOUPS AND ROASTS AS WELL, WHICH, ACCORDING TO RESEARCH, CAN HELP KEEP YOUR BLOOD PRESSURE LOWER AND ALSO SUPPORT YOUR IMMUNE SYSTEM.
Dried onions or onion powder have a similar effect.
Citrus Juice: Surprising, but instead of salt, you can flavor it great with lemon or other citrus juice, possibly peel, as its acidity highlights the salty taste. Feel free to squirt the fried meats with it or use it to flavor salads.
Black pepper: from the classic salt-pepper duo, you can keep it even if you want to eat less sodium. This spice can also be a pleasant addition to soups, pasta, and baked goods and has an anti-inflammatory effect. In addition to black pepper, you can try white pepper or colored pepper, as well as hot peppers.
Balsamic Vinegar: Balsamic Vinegar with its characteristic aroma and sweet aftertaste brings out the natural taste of the food, so you will need less salt. In addition to salad dressings, you can use them in soups and even in vegetables and sauces with meat or fish.
Truffle Oil: The strong, earthy flavor of truffles is glorified by connoisseurs worldwide. It's so powerful that a drop can be enough for cooking instead of salt – try it with pasta, pizza, and popcorn!
Green spices: rosemary, tarragon, thyme, lentils, and basil all bring excitement to your usual dishes.
MAKE EXCITING SPICE OILS OUT OF THEM: IF YOU DRIP THEM ON THE DOUGH, SOUP, PIZZA, YOU CAN ENHANCE THE TASTE
without the salt coming to mind at all!
Ginger: One of the most exciting spices is this juicy, sweet, pungent, truly unique-tasting root. Ginger, also known for its anti-inflammatory effects, can be sprinkled from soups to drinks and stir-fry foods, and can even be used as a natural immune booster when mixed with honey.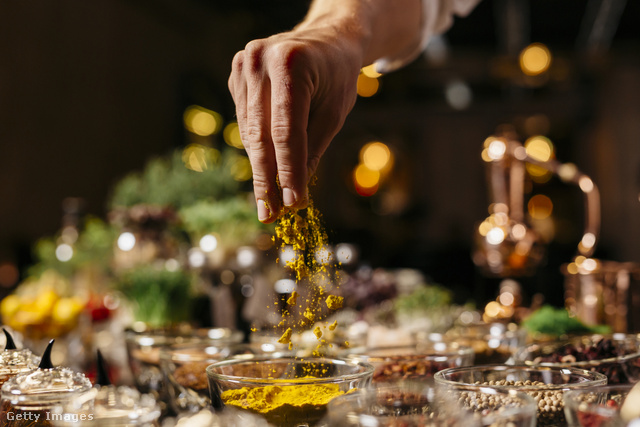 Cinnamon: Don't just think about making a cake! When making sweet-spicy cinnamon beans or lentils, you can replace the salt one by one, but you can also spice up your usual dishes with it, be it soup, tomato sauce, curry, or roast meat or marinade.
Mint: The refreshing, distinctive taste of green leaves can enhance your salad, and works well in both sweet and savory foods. You can make the most of it as a fresh ingredient in pasta, couscous, or lettuce, but you can even make tea by boiling the leaves.