Lifestyle
SPECTACULAR RENOVATION WITHOUT DEMOLITION – THE BEST IDEAS FROM THE INTERIOR DESIGNER
There is simply no end to home beautification, there is always something to shape and improve. Somehow, the human mind also requires that its environment be renewed from time to time and that it be exposed to new stimuli even in the home. In such cases, the more intrepid make a pilgrimage to a furniture store and buy a decor or two or replace the sofa. Many people do not even start because they are not satisfied with this much, they want a more spectacular change. Our article is for them.
Without having to live in a cloud of dust and without rooms for many weeks, we have a few tips on how you can carry out a very spectacular home conversion. Without demolition!
You wouldn't believe that a professional real estate developer and interior designer is also full of do-it-yourself ideas, he often talks his clients into keeping and renovating old furniture. This is also the case with Aletta Hujber-Nagy, who has been working as an interior designer for 15 years and is not only passionate about value-creating but also value-saving work. We asked him about what kind of spectacular work is worth getting involved in, what can be done with your own hands, and which won't burden our wallets as much.
The cheapest is to convert it ourselves
"I recommend to everyone that if you feel strong within yourself, you should have the courage to repaint and decorate your walls and objects," says Aletta Hujber-Nagy, the lead designer of the home's architecture design studio, who says that it's only a matter of time and imagination how much you customize our apartment. From updating the kitchen fronts to new lamps to decorative pillows, there are so many possible ways to reform the interior of the apartment that we had to narrow down the ideas to 3 points.
Let's start with the first, the biggest bite: painting.
1. Paint everything!
Go into a professional paint store, and you won't be able to tell the salesperson a surface that hasn't already been developed for paint. Thus, if you have been bothered by the fact that the wedge-shaped gas pipe does not go with the wallpaper, or the tiles are boring, now you can solve this as well. In paint shops, they mix the selected color not only on the wall but also on wood and metal. Feel free to tear apart the odd-looking cabinets covering the pipes and search for new tile stencils, it just depends on your dexterity and creativity.
If you don't like the battered, yellowish, herringbone parquet, paint it! You don't always have the opportunity to polish it, renovate it, and leave the room without it for weeks, sucking in the dust and waiting for the varnish to dry. We talked about saving value at the beginning of the article, and of course, we only recommend painting as plan B, but even then it has a right to exist in this place.
"YOU CAN ACHIEVE REALLY STRIKING CHANGES BY RENEWING LARGE SURFACES."
 says the expert. "It can be a good strategy to paint the wall surfaces of individual rooms with broken, more restrained colors. Make sure that the plinth, the door, and its frame are the same color! This method completely opens up the space. The result will be a giant canvas, which you can then redecorate with your furniture and favorite decorations." 
Be brave and break the mold! In the video above, the colors are reversed: the tiles are white and the wall is colored. The difference is spectacular. 
It is a bit more laborious if you cover one wall with a special covering, as the Alettas did, with colored wooden bricks that were glued onto the walnut veneer.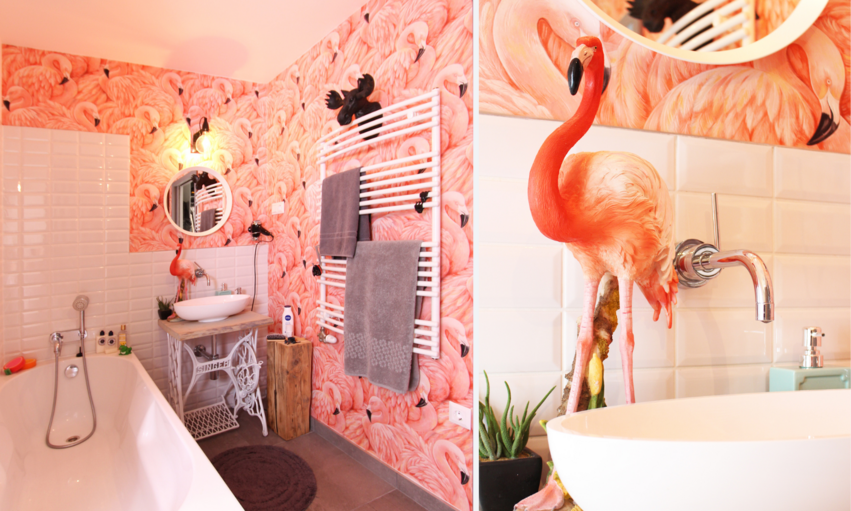 Aletta Hujber-Nagy / home'n architecture
The expert suggests that we prefer to live out our extreme desires in smaller rooms, be it the bedroom, the bathroom…
Equally amazing changes can be made by transforming larger pieces of furniture with paint. A vintage chest of drawers is ready by aging a more recent piece, or we can rejuvenate a simpler, nondescript copy with a new, wild color.
"We must not throw away our solid wood furniture in good condition if we still see fantasy in it,"  Aletta suggests. "Let's feel free to get inspired on Pinterest, there we are sure to find feasible and really tasteful solutions. Not only paint but also new handles and legs can brighten up an outdated design. "
2. Decorations and lamps in all quantities
By decorations, we do not mean inherited dust collectors, but elements that fit into the space in color and shape that create a feeling of homeliness.
"Recently, it is fashionable to place lamps of many different styles in the room, which of course match each other. A trained eye doesn't hurt for this, but the point is that you don't necessarily have to think in terms of lamp families. Wall, ceiling, table, and floor lamps can be different."
3. Harmony of home textiles
It is essential that the color palette of the apartment is composed of harmonizing colors and that we dress up our windows with curtains and our sofa with decorative pillows accordingly. For those who don't particularly like curtains, a veil-like, non-folding, single-row curtain solution that softens the space and filters the light can be suitable even for them. Aletta also emphasizes that, if possible, we should not cut the curtains at the elbows, let them reach the floor, as we mentioned in our article on curtains .connecting A BAD CURTAIN SPOILS THE WHOLE APARTMENT: SO CHOOSE THE ONE THAT REALLY SUITS YOU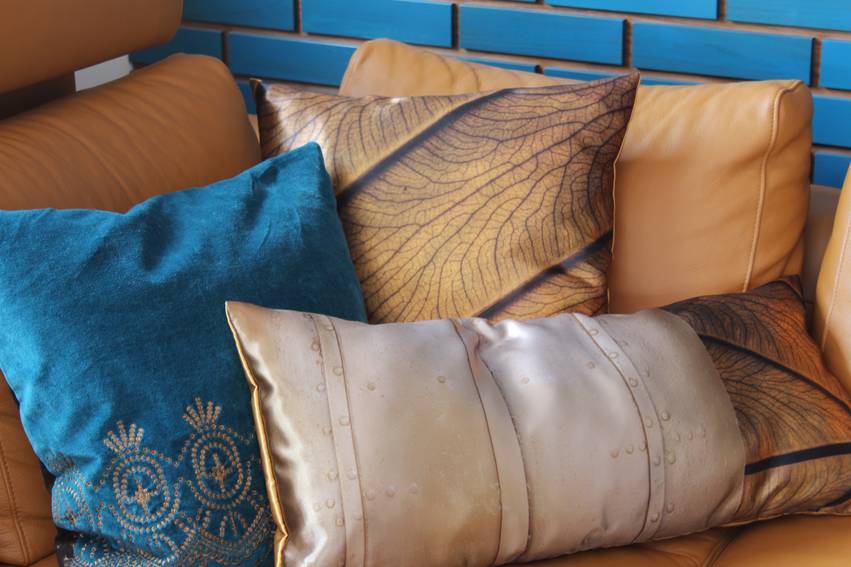 A couple of beautiful, harmonizing decorative pillows can add a lot to the atmosphere of the apartment. Many people keep several sets of home textiles at home so that they can be changed according to the seasons, our moods, or the current holidays. In addition to the tablecloth, why can't blackout curtains be new in the autumn and winter months? But some extra soft carpets and blankets also increase the sense of homeliness.  The purchase of these can all be part of a home renovation without demolition